CHRIS CARNIE (FInstF FRSA): CHAIRMAN, SENIOR CONSLTANT AND CO-FOUNDER OF FACTARY
Chris is a research consultant, specialising in strategic funding for non-profits – gifts, grants and investments by philanthropists, foundations, companies and government – in Europe.  He has worked in fundraising since 1980, initially with the Muscular Dystrophy Group, Voluntary Service Overseas and Kings College Hospital, London, and was a researcher in the House of Commons 1982-84. In 1990 he co-founded Factary, Europe's leading prospect research agency. In 1993 he became the first advancement researcher to be elected a Fellow of the Institute of Fundraising, and in 1999 the first to be appointed a Fellow of the Royal Society of Arts (RSA). He was Founder Chair of Researchers in Fundraising, the Institute of Fundraising special interest group, and he is a member of the Association of Professional Researchers for Advancement (USA), of the Association for Research on Non-profit Organizations and Voluntary Action (ARNOVA, of the Association Française de Fundraisers (www.fundraisers.fr) and of the Asociación de Profesionales de Fundraising (www.profesionalesfundraising.org, Spain). Chris has been involved in the development of venture philanthropy in Europe since 2003, and is former a member of the Finance and Funding Group of the European Venture Philanthropy Association (www.evpa.eu.com). Chris serves on the Advisory Panel for the International Fundraising Congress at Resource Alliance (http://www.resource-alliance.org/).
He writes and trains in fundraising research for NGOs and professional bodies including the International Fundraising Congress where he is a regular Master Class leader. He served on the planning group and is a faculty member for the University of Barcelona Postgraduate Certificate in Fundraising (http://www.il3.ub.edu/es/postgrado/postgrado-captacion-fondos-fundraising.html). He was the management level trainer in major gift fundraising at ESSEC for the Association Française de Fundraisers' postgraduate course. His first book on prospect research 'Find the Funds – a New Approach to Fundraising Research' was published in 2000 by Directory of Social Change, London. His second book, 'Fundraising from Europe' was published in 2003 by Chapel & York, London (www.chapel-york.com). He is a contributing editor of Major Donor Prospect Research: Fundraising from the Millionaires In Your Database and Online, published by John Wiley, New York, in 2006, a chapter contributor to Trust Fundraising, DSC, London, 2011 and wrote the Western Europe chapter for Global Fundraising: How the World is Changing the Rules of Philanthropy, John Wiley, New York, 2013, winner of the 2015 Skystone Prize of the Association of Fundraising Professionals, USA.
More recently in 2017 Chris published "How Philanthropy is Changing in Europe" [Policy Press – UNIVERSITY OF BRISTOL].
"At a time of great change, both in philanthropy and in Europe, this is an important book written by an accomplished and cerebral fundraising practitioner" – Review by Dr Beth Breeze.
Chris lives near Barcelona. He speaks English, French, Spanish and Catalan and reads Italian, German and Portuguese.
---
MARCUS LOW (MBCS): CEO
(Data Systems Consultant & Data Protection Officer)
Marc joined the Factary in 2008 as Database Manager and later Data Systems Consultant, before eventually becoming CEO of Factary Ltd (UK) in January 2015.
He began his 33 year IT career in data systems working for Local Government and the Inland Revenue Special Investigation Section, before moving to British Aerospace where he worked at BAE Systems in the production of the Hawk and Harrier aircraft.  He then moved to the food & drink sector in the early 90's where he worked for Pepsi, KFC/FORTE, Labatt Brewing, Anheuser Busch and Whitbread.
In 1997 he wanted to do something special in the non-profit sector and applied for a newly created role as IT Manager for The Princess Alice Hospice; close to where he lived in Esher, Surrey.  There he spent several years developing the IT department & services within the hospice and worked on many projects – some of which were partnered with the NHS.  In 1998 he and the IT Manager at St Catherine's Hospice set up an IT Forum for Hospices in London and the South of England and he went on to help many other Hospices develop their own IT services.
In 2004 Marc left the Hospice and became an independent IT Consultant where he helped many different types of nonprofits in SE England develop their own IT functions & resources.  He specialised in databases, networking,  data/voice communications,  and developing multi-site data connectivity over Wide Area Networks.
Marc continues to help nonprofits with their IT and data needs, including best practices & policies.
He is a Member of the British Computer Society & Chartered Institute for IT.
Since becoming CEO of Factary Ltd (UK), Marc says:
"The role is exciting, varied and busy but made a good deal easier by having such an amazing, ethically motivated, and highly specialist team to work with."
"The whole team are having to deal with some very important strategic changes as we continue to innovate and develop.   The challenge this year is to provide the best products and services for the nonprofit sector, which are  both effective fundraising tools and 'GDPR ready'."
"We have an exciting journey ahead of us, as we continue to dedicate ourselves to helping nonprofits in the sector with continued support and exciting new products  – so watch this space!"
In his spare time, Marc has been a local parish councillor and council chairman for several years. He is a trustee for several local community-driven charities. He enjoys walking the Malvern Hills, classic car renovation and occasional motorcycling (mainly on sunny days). He is also an editor for a parish magazine and a footpath officer in his home county of Herefordshire where he helps maintain and preserve 'rights of way' in the countryside by liaising with the county councils, English Heritage, farmers and other land owners in his home County of Herefordshire.
---
Nicola Williams: Research Director
Nicola originally joined Factary as Research Manager in 2009.
Since joining Factary Nicola has worked with a broad range of clients across the non-profit sector. This involves working on numerous types of interesting and varied major research projects.
Prior to Factary, Nicola worked for 13 years in the non-profit sector, both in the UK and overseas. She has significant experience of project management, delivery and the development of strategic fundraising programmes.
Now as Research Director, Nicola regularly meets up with clients to discuss their fundraising plans and longer term goals, and this helps her get to fully appreciate and understand their challenges and needs.
This in turn helps shape our products and output and, with the support of the Research Manager, she helps strategically lead the Factary research team in providing tailored, ethically-governed research and data analytics. We understand that all our clients are unique and we ensure that Factary always takes a bespoke and tailored approach with every client and project.
Nicola's specialist areas are in the development of efficient prospect management systems and the design of effective research strategies to meet the complex needs of non-profits. Her focus is on achieving what Factary has always been good at, which is helping clients forge better donor relationships, higher donor retention, and a greater donor involvement and experience.
Nicola also trains and consults in fundraising research for non-profits across the UK and has attended and spoken at numerous conferences, media events and webinars.
---
Will Whitefield:  Research MANAGER
Will joined Factary as a researcher in 2006, before becoming one of our leading senior researchers.
In his current role as Research Manager he heads up the day to day management of the research team at our Bristol Office. He manages the team in all aspects of research, from the screening of existing client contact databases, to helping identify new sources of major funding.
He is highly skilled and experienced in all aspects of prospect research, specifically Trusts and Foundations, and a former editor of Factary's highly successful New Trust Update (NTU) for a number of years. Will has also served on the Researchers in Fundraising (RIF) Committee from 2013 to 2016 and is a guest lecturer on the Charity Development undergraduate programme at the University of Chichester.
Prior to joining Factary, Will was a fundraising coordinator at the Juvenile Diabetes Research Foundation and a trusts researcher for Tree Aid. Before that he was a researcher at a firm of solicitors in Bristol. He has a BA in Anthropology from Durham University and an MSc in Corporate Social Responsibility from the University of Bath.
---
Nicola Bird: Senior Researcher
Nicola joined Factary as a Researcher in July 2007 after a lengthy career as a researcher and strategic planner at Lloyds TSB, MORI and the Government Information Service. She has an LSE degree in Economics & Statistics and an Open University MSc in Development Management. The experience of completing her Masters and of being a Trustee & Chair of a local women's charity confirmed her wish to work in the voluntary sector.
Since joining Factary she has undertaken extensive research, her particular areas of focus have been wealth research, in-depth profiling of individuals and companies and new prospect identification.
---
Shaun Gardiner: Senior Researcher
Shaun joined Factary as a researcher in 2009. Prior to joining Factary he worked in a number of different fields including market research, and web and graphic design. Since joining Factary he has held a variety of roles, including Editor of the New Trust Update (NTU) and Factary Phi Newsletters, and acting temporarily as Research Manager during 2011.
Shaun now focuses on in-depth research and data visualization solutions for clients, and he is our leading Researcher for Factary ATOM (our donor mapping service).
Shaun's artistic and technical skills also helps when it comes to managing the maintenance, design and development of Factary's websites and online services.
---
Duncan Au: Database Screening Co-ordinator
Duncan joined Factary in 2008 to help run the database and screening functions.  He now manages the group's Data and Analytic services.
Before joining Factary he was a researcher at the Institute of Physics and a database administrator at Yellow Pages. He is a keen cyclist and holds a BA in Philosophy & Social Psychology. He  says that neither subject has revealed itself to be particularly useful in analysing databases… (but being Philosophical when it comes to dealing with the complications of BIG DATA,  does have distinct advantages).
Duncan continues to help develop our Oracle database and is continually pushing the boundaries with innovation and ideas.
As a lifelong "glory hunting" Man United fan, nothing gets Duncan more excited than the legendary goals of Paul Scholes… but he admits that the discovery of a new complex Excel spreadsheet formula, or a convoluted database query, does come a close second."
---
David Hughes: Researcher & PUBLICATIONS editor
David joined Factary as a researcher in 2012 after completing a series of internships in the legal and financial sectors.
Prior to this he was at the University of the West of England where he read English Literature.
He is now Editor of the New Trust Update (NTU) and Factary Phi publications. He also helps administer Factary's various online subscription services.
When David isn't working he enjoys listening to music, reading contemporary American and Gothic literature, visiting the cinema and the occasional scuba diving, whenever he gets a chance to!
---
Simon West: Office Manager
Simon joined the team in July 2016 as Office Manager, responsible for our offices, finances, HR and administration. Simon has experience in a variety of wide-ranging administrative roles, having previously worked in investor services, financial services and six years working for a Government Agency before making the long-desired move into the not-for-profit sector.
Outside of work, Simon enjoys cinema, live music – both watching and playing – and sporadic attempts to reignite his artistic flame, which has smouldered since studying Illustration at university in the late 90's, through drawing and the occasional short film and animation.
---
Martine Godefroid: MD Factary Europe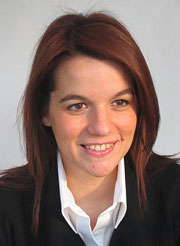 Martine came to the non-profit sector with a successful track record in international finance as a Vice-President at J.P. Morgan. She was a project director at NEF – Network of European Foundations for Innovative Cooperation in Europe – where she was responsible for projects involving several member foundations. Martine has worked with leading foundations in Europe – including among others, the Charities Aid Foundation (UK), Fondation de France (FR), King Baudouin Foundation (BE) and Compagnia di San Paolo (IT) – for which she carried out research in new approaches to project funding and conducted feasibility studies on innovative philanthropic vehicles. Experienced in setting up partnerships and managing cross-border projects, she developed "Transnational Giving Europe" – a uniform framework allowing tax-effective cross-border giving. At Factary, Martine utilises her business skills and experience with grant-makers to help clients with insightful strategies and effective research.
---
Helen Brown: US PARTNER & President of the Helen Brown Group
Helen has been a development professional since 1987.  Her previous experience includes The University of North Carolina at Chapel Hill, the Albert Einstein Institution, Boston College, the Harvard School of Public Health and Northeastern University.
Currently she works with a variety of clients to establish, benchmark and re-align research departments; identify major gift prospects; and train researchers and other fundraisers through on-site and web-based training services.
Helen is a former member of the board of the Association of Professional Researchers for Advancement (APRA) and is past president of the New England Development Research Association (NEDRA).  In 2006 she received the NEDRA Ann Castle Award for service to the prospect research community.
Helen is Special Advisor on Fundraising to the North American Foundation for the University of Manchester and from 2004-2014 was a non-executive director of Factary Ltd. (Bristol, UK).  She is a member of NEDRA, APRA, the Association of Independent Information Professionals (AIIP), Women In Development, the Association of Fundraising Professionals (AFP) and Researchers in Fundraising (UK).
Helen is a frequent speaker and has led seminars for a number of professional associations, including Action Planning, AFP, APRA, the Council for Advancement and Support of Education (CASE), NEDRA, RIF, the Planned Giving Council of Central Massachusetts, the Georgia Center on Nonprofits, the International Fundraising Congress (IFC), and Resource Alliance.
Helen is also co-author (with Jen Filla) of the book Prospect Research for Fundraisers (John Wiley & Sons, 2013)
Editor's Note (Extract from an online review on Amazon): 
"This is a clearly-written, comprehensive, efficiently-designed book. Its mixture of straight talk, real examples and models makes it easy to read and immediately useful."
"In the eight chapters and 216 pages of the hardback edition the book covers the how and the why of identifying new prospects, the different levels of research, relationship management, ethics and the law and international research. Crucially for its intended audience of fundraising leaders the book also explains how to improve the management of prospect research, and lays out future trends such as a move toward mapping relationships between prospects and donors – a trend that we at Factary have focused on with Factary Atom…….."
---