Welcome to the November 2017 issue of the Factary Phi Newsletter.
Major Giving News
Gibraltar businessman donates £1m
On the day of his 80th birthday the Chairman of the Alwani Group, Kishin Alwani, donated £1m to his own The Alwani Foundation which specialises in poverty relief and education.
At a recent cocktail reception to celebrate Alwani's birthday he also presented donations to five other charities, totalling £25,000. Speaking at the event Fabian Picardo, who is a member of the Foundation's advisory board said of Alwani: 'He is now more of a philanthropist than the businessman and investor that we remember'.
'Kishin is demonstrating to us what he believes is going to add great value to the community. The donation of £1m to the Foundation I think is something that must be recognised as probably the largest philanthropic donation in the history of Gibraltar by a local foundation and local benefactor.'
Rory McIlroy to donate £500k
Fresh from a first-place finish at the Irish Open golf tournament, Rory McElroy is set to donate his entire £500,000 winnings to several children's charities through his own Foundation.
The organisations set to benefit are all located close to the illustrious K Club, where the tournament is held, and they include Barretstown, a medically-supported camping charity for seriously-ill children, the Jack and Jill Foundation for children with disabilities, and also the LauraLynn Children's Hospice.
A victorious McElroy said: 'To win in front of my home fans and to look up and see my friends and family there is something very special for me. To finish like I did is something I'll never forget and I'm excited about the weeks ahead. Hopefully I can take this form into the summer.'
Report: This month we have included our summary of several sections of a report from the Centre for Charity Effectiveness entitled 'Social Investment as a New Charity Finance Tool: Using Both Head and Heart'.
Introduction & Definition
In an increasingly difficult fundraising environment for many charities in the UK, it is noted in the report that there has been a significant shift in government funding towards payment-by-results contracts over other methods. In the face of this, commentators have begun to question how charities can simultaneously continue to operate in a financially sustainable manner while also working to maintain or better their level of social impact.
The investment market has also expressed concerns, with many demanding that their money not only generate a financial return, but a meaningful social one too. These factors, the report states, are beginning to exert a slow but undeniable effect on the way in which mainstream investment works with regards to the sector.
On the surface the market for social investment appears to have become more and more appealing, yet whilst it is easy concept to understand, it remains a difficult one to define. In essence, social investments operate using commercial style investment tools to fund charities and social ventures, while prioritising both a social and a financial return.
Charities may be expected to pay the money back, either without interest (for example using a repayable grant arrangement) or with interest in order to compensate for the risk of the initial investment.
Methodology
The report draws from multiple layers of research conducted during the course of 2015 and 2016, including:
A survey answered by 190 charities, funders and advisors on the trends in charity finance and social investment.
A symposium with discussions involving over 100 senior leaders in social investment.
A series of explanatory seminars on the subject entitled 'demystifying the hype'.
A literature review focusing on the environment, barriers and mind-set surrounding social investment.
More than 120 face-to-face interviews.
Developing the social investment market
According to the research, the market for social investment has continued to build at a rate of 20–30% per annum, increasing to the point where it has now reached an estimated £1.5bn in capital, according to the latest figures from Big Society Capital (2016).
The evidence so far suggests that the sector is reaching a key moment with regard to social investment. It used to be viewed as a niche investment product, but it has now gained the sufficient momentum required to propel it into the mainstream.
With grants and donations shrinking, it is thought that readily available investment monies will begin to have a more pronounced effect on the sector. However at the same time, there are those who worry that if charities do not take these opportunities then investors will begin to look elsewhere.
There are also ethical and cultural concerns amongst charities regarding how they will pay back such investments. They ultimately want to attract affordable investments that will help them build income streams that are both sustainable and predictable. Based on the survey, it is thought that demand for social investments will grow more strongly where there is an alignment with the following objectives.
The survey showed that:
60% of respondents saw social investment as either positively changing their business models or being transformational to them.
33% of charities felt that social investment would bring little or no change to their organisations.
7% were openly negative about it.
The report concludes by stating that, based on the research, the main barrier to using social investment as a tool appears to be a lack of on understanding. The more familiar with it charities become, the more likely they are to use it and think more positively about it. However the reverse is also true for those who continue to remain ignorant. To combat this, the report recommends further training and mentorship for the sector to get the best possible use out of social investment in the future.
Phi in Numbers: November 2017
As it stands, the database currently holds 752,114 records of donations with a combined value in excess of £35 billion. Therefore for this month's edition of our database update, we thought it might be interesting to survey the spread of records throughout Phi which include an amount (£).
As such, our survey is based on records which either have an exact donation amount or a 'gift band lower' (minimum £), for the sake of accuracy those with only a 'gift band upper' have been excluded.
Below, we have included a bar chart showing the total spread of donations with amounts throughout Phi, split according to donation banding.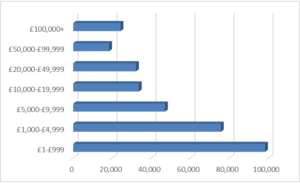 As the above graph demonstrates, the majority of records in Phi which contain an exact amount have been made in the £1-£999 bracket. As the size of the (£) banding increases, the frequency of donations with an amount gradually decreases. This is to be expected, however, it is interesting to note that the number of donations in the £10,000 and £20,000 bandings appear to have stayed relatively even in comparison with bandings, and there is also a slight spike of donations in the £100,000+ bracket.
Profile: The Grand Charity (Masonic Charitable Foundation)>
The Foundation was established in 1981 as the charitable arm of the Freemasons, a male members club whose origins can be traced back several hundred years, with the first official Grand Lodge of England founded in the year 1717.
The organisation has a long history of charitable giving, which until relatively recently was handled by four separate charities that are named The Freemasons' Grand Charity, the Royal Masonic Trust for Girls and Boys, the Masonic Samaritan Fund and the Royal Masonic Benevolent Institution.
These organisations were not only responsible for the charitable giving of its members, but also for the operation of a number of institutions including the Royal Masonic School for Boys, the Royal Masonic School for Girls, the Royal Masonic Hospital and 17 residential care homes.
In 2016, these were merged to form the Masonic Charitable Foundation, with more than £400m in assets.
For the financial year ending the 31st March 2016 the trust reported an income of £14,957,700 and an expenditure of £16,150,900. Factary Phi holds 1,471 records of donations made since 2006 with a minimum total amount of £15.3m.
The largest proportion of these donations have been made to causes associated with Health (1,000) followed by Children/Youth (214), Welfare (59), Disability (51), Education/Training (36), Elderly (18), Development/Housing/Employment (16), Arts/Culture (12), International Development (9), Mental Health (7), Religious Activities (6), General Charitable Purposes (5), Rights/Law/Conflict (4), Animals (1).
The Trustees
Richard Hone QC is a retired senior circuit judge who has also held positions as the Chairman of the finance committee for the charity. He is President of the Foundation.
James Newman OBE is a chartered accountant. He has served as a founder and Chair of the Sheffield City Region Local Enterprise Partnership Board and he was also formerly a Finance Director and Chief Financial Officer of several public companies and other private and public sector organisations. He is deputy President and the Chairman of the Foundation.
Mike Heenan is also a chartered accountant who has worked as the non-executive Chairman of an investment company. He was also a non-executive director of First Community Health NHS Trust and he was a leader of Stafford Council. He is Treasurer of the foundation.