Welcome to the February 2015 issue of the Factary Phi Newsletter.

Major Giving News
Banking fines donated to naval charities
Both The Royal Navy and the Royal Marines Charity are set to receive £4m in donations thanks to recent fines levied on banks for manipulating the London Interbank Offered Rate.
Chancellor of the Exchequer George Osborne announced a £2m donation during a recent visit to Portsmouth, stating that:
'It is fitting that the money paid in fines by people who demonstrated the poorest values in our society is used to support those who demonstrate the very best. Servicemen sacrifice so much to keep our nation safe and we will invest into projects such as refurbishing the Mess at HMS Sultan and renovating the Navy Mews so they can spend times with their loved ones when they are deploying.'
Following on from this, a further £2m donation to the charity was announced by Danny Alexander MP, Chief Secretary to the Treasury.
Edinburgh University nets £5m
A state of the art new research and support centre is to be constructed at Edinburgh University thanks to a mammoth £5m donation.
The centre is to be named 'The Salvesen Mindroom Centre' and will be used to benefit children and young people with learning difficulties by improving the research into, diagnosis and treatment of their associated medical conditions.
The donation has been made by businessman and philanthropist Alastair Salvesen, who is chairman of Dawnfresh Seafoods, and his wife, Elizabeth.
Furthermore, their donation is also the second largest personal gift to the university after author JK Rowling donated £10m to fund the Anne Rowling Regenerative Neurology Clinic.
Prof Anne O'Hare, director designate of the new centre and consultant paediatrician, said: 'I am highly delighted to be able to lead research and drive the centre towards transforming the care of children and young people with developmental learning disorders.'
'Through the Salvesens' gift we will be able to deliver a better approach to supporting children with the wide range of conditions that impact on their learning.'
Businessman pledges £500,000 towards cancer centre.
Former Sony CEO Sir Howard Stringer has pledged to donate £500,000 towards the construction of a new Maggie's centre in Cardiff.
His donation has been made in memory of his mother, who was cared for by his wife Jennifer some years ago.
'My wife nursed my mother through her cancer so when we found out about Maggie's we knew we should get involved as it's such an important service, and it would have made a big difference to us.'
'If you create an environment which is warm and welcoming you have a much better chance of adjusting to the cancer more quickly, which then aids recovery.'
A further £3.5m will be needed to make the new centre a reality, and in recognition of his donation, a kitchen table at the centre is to be dedicated to his mother's memory. .
Report: Charity Street
This month, we have included our summary of a recent report on the value of charities to British households. The report is entitled 'Charity Street' and the research was conducted by Alex Glennie and Amy-Grace Whillans-Welldrake on behalf of the Institute for Public Policy Research.
Introduction
The report begins by acknowledging the fact that charities play a vital and varied role in all aspects of our national life. Also due to the size and variety of the sector, a great many of us will have had contact with a charity in some shape or form during different periods in our lives, whether this might be as donors, service users or as volunteers.
According to the statistics, over half of the UK's populations reportedly donate to charitable causes, more than a quarter (29%) volunteer at least once a month and 44% do so at least once a month.
Interaction with charities in some form or another is also a regular part of our lives, with 40% of people in England and Wales reporting that they or their close friends have benefited from this interaction. This is reflected in their positive reputation among the public, and also in the high value that is attributed to their work. The majority of the UK public (96%) also said that they play an essential, very, or fairly important role in society.
Despite this widespread consensus on their obvious value to society however, the point is made that in the current climate of austerity, there are a number of serious challenges that the sector must overcome. As of a result of austerity measures, charities are now required to deliver more public services and to become more involved in increasingly complex delivery arrangements, all while experiencing a surge in the overall demand for their services, placing a greater strain upon them.
The report seeks to explore the impact of the sector on different household types in Britain by considering the following key questions:
How do different households benefit from charities? – both directly, in terms of the services received, and indirectly, in terms of the wider social benefits associated with these services
Is it possible to place a value on those direct and indirect benefits, with a view to understanding the aggregate value of charities to different households
How do households perceive their relationship with charities, both in terms of giving and receiving
What are the implications of these findings for charities, for households and for the local and national government
Recent trends in public engagement with charities
To identify exactly how different types of households benefit from charities in terms of the support they receive, the latest evidence on a number of key questions was considered. The evidence covers:
Patterns of charitable giving
How the public interacts with and views charities
The impacts and benefits of engagement with charities
Patterns of charitable giving
Perhaps unsurprisingly, making donations is considered to be one of the most common ways the UK public interacts with charities. According to the recent 'UK Giving' reports by CAF, more than half (57%) of people report that they donate to charitable causes in a typical month. If this is applied to the population as a whole, this would translate to an estimated total of £10.4 billion donated to charity by adults in that year. This does however remains below the previous financial peak reported in 2007/08, which goes some way to reflecting the challenging economic conditions that have come to pass in the years since.
This same report also provides an insight into the types of people who interact with charitable organisations in terms of their preferences for specific charities. For example, it highlights the fact that, on average, more women than men donate and also that, charities specialising in medical research, hospital and hospice care and those involved with children and young people receive the highest proportion of donations from men and women, and overall.
According to Britain's Civic Core report, also conducted by CAF, 9% of people accounted for 66% of this type of charitable activity overall, and that this 'civic core' predominately comprised of professionals, women and retirees, who tend to take part in a broader range of charitable activities.
Based on the research conducted in New Philanthropy Capital's Money for Good UK report, 47% of the population believe that people should donate to charity if they have the means, while 70% of 'mainstream donors' (those with an income of up to £150,000 per year) donated to the same charity in each of the last three years. The same report also suggests that the specific cause prompted by individual charities was the defining factor in motivating donors.
Taken together, these findings suggest that a significant proportion of the public feel that they have a duty to donate to charity and remain loyal to their chosen cause for a significant period of time.
Further research conducted by CAF supports these findings. When asked why they give, 97% highlighted their own personal values as a primary factor in supporting their chosen cause, while 75% had a specific belief in the cause. They also found that 61% were driven to donate due to their own personal experience, which suggests that most donors are driven to donate because of some positive contact they have previously had with a charitable organisation.
Public perceptions of charity
The public's motivation for giving is also shaped by a number of other factors, such as their perception and trust in charities as a whole. According to Ipsos MORI's 'Public Trust and Confidence in Charities' report, the public do maintain a high level of trust in charities, which is surpassed only by their trust in doctors and the police. Although there is some evidence of increasing concern regarding how their donations are spent, overall, the proportion of people reporting an increasing sense of trust in charities has risen from 9% in 2012 to 10% in 2014.
According to this same survey, the vast majority of the public also perceive charities to be a positive force, with 96% stating that charities play an 'essential', 'very important' or 'fairly important' role in society. The level of contact between charities and the public and charities, with 40% reporting that they or members of their family and friends have benefited from, or used a charitable service at some point in the past, an increase of 6% from 2012.
Since 2005, this proportion has steadily increased from a time when only 9% reported ever using or benefiting from a charity. This suggests that a greater proportion of people now need access to charities and as a result, the public are becoming more aware of the services that are available. Based on the research conducted in the PwC's 'Managing in the New Normal' report, it is also possible that charities are now beginning to fill the gaps in public service provision that were created by the recent austerity measures. Some 69% of charities have highlighted a year on year increase in the demand for their services, supporting this theory.
Despite some cautious optimism among charities, 37% of those surveyed said they believed that they will have to cut services in certain areas in order to meet demand. 44% stated that they have already needed to draw on their financial reserves in order to meet demand, while a further 31% stated that they plan to do so in the next year.
The benefits provided by the charitable sector
Rather than approaching this topic from a monetary or business standpoint, the impact of the charity sector can instead be measured according to the social value that results from its interventions.
To this end, the report uses a Wellbeing Valuation approach, which measures the value of impacts that do not fall neatly into a market-focused analysis, and also allows for the measurement of how multiple charities can impact the everyday lives of different households, depending on their circumstances. This approach also draws on self-reported data that is taken from people's real life experiences, allowing for values that can be applied more consistently.
Quantitative findings
What kind of charitable services are households using?
In order to understand how households engage with charities, poll respondents were asked questions on their use of a wide range of charitable organisations or services, focusing on six broad categories:
Advice
Direct Support
Community involvement
Housing
Education
Retail services
According to the responses, more than nine out of 10 (93%) have used at least one charitable services at some point in the past, with nearly four-fifths (79%) having used this in the last 12 months, and half (51%) in the last month, thus clearly demonstrating the prevalence of the sector amongst the public.
Based on the results, households appear to be engaging with charities in a variety of different of ways, and over the last 12 months, many people have also used more than one type of service (with an average of three different services used in the last 12 months). This, it is argued, is clear evidence that we need to broaden the way in which we evaluate the impact of the sector. This is because traditional measurements (those that focus on the evaluation of a single charity or single type of charity) do not capture all the ways in which households benefit from the use of the sector as a whole.
Who is using charitable services and how frequently?
In terms of their overall usage, women are more likely than men to use charitable services, with 83% having done so in the last 12 months, compared to 75% of men. Their usage also appears to increase with age, with 85% of those aged 65 or over having used a charity service in the last 120 months, compared to 75% of those aged 18-24. However, in terms of multiple service use this trend is reversed, with younger people using a greater breadth of charity services.
In terms of frequency, just over half (54%) of all respondents reported using charities services at least once per year. Around 12% stated that they currently use these services once a week and of those who used them once a year, the most common frequency of usage was monthly or every 2-3 months.
What benefits do people receive from accessing charities?
In general, respondents were very positive about the role that charities play in society. On a scale of one (not at all important) and 10 (essential), 68% rated the role of charities as highly important (score 8 out of 10). Among those reporting use of a charity in the last 12 months, this rises to 73%, and to 82% among those who interact with charities on a weekly basis.
Respondents were also asked to comment on their perceptions of charity impact in their local area. Between a fifth and a third agreed strongly (8 out of 10) that their local area benefited from this influence. Also unsurprisingly, those who had engaged with charities more recently gave a consistently higher rating for each of the potential benefits mentioned.
Interestingly, nearly half of all respondents (47%) who reported having ever used charities said they felt they had not received any of the wider range of benefits that are associated with the use of charitable services. On closer inspection, it becomes clear that the more frequent their interaction with the charity, the more benefit the recipient perceives they have received (and vice versa).
Different benefits were also felt to have been gained by different types of household, which undoubtedly reflects the type of charitable services used, as well as people's own motivations for using that service or services in the first place.
For example, younger, single adult households are more likely than average to highlight that the services provided them with 'an enjoyable or fun experience' (24% vs 13% overall). In comparison, families with older children are more likely to highlight the opportunities to meet new people and socialise (11% vs 7% overall) or undertake a new activity/learn a new skill (10% vs 6% overall). Single parents are also the most likely to recognise the personal benefits of interaction with a charity, with two-thirds (65%) highlighting at least one personal benefit received from their charity experience (compared to 49% overall).
Conclusions
Over 90% of all households in the UK have used charities at some point in the past, demonstrating the vital role they play in our society, 80% of these stated that they had done so in the past 12 months, and half of them in the last month.
However, the results also suggest that charities are being used in very different ways. Those families with older children, older couples and lone parents are the groups who are most likely to have used their services, however younger household types are their most frequent users. Higher income households are also more likely to have used multiple services, and unsurprisingly, different households use different types of services.
Furthermore, nearly half of all the households surveyed said that they were central to their lives or that they made a real difference, with those who use these services most frequently citing the strongest benefit.
The evidence also has a number of implications:
While charities clearly play an important role in the lives of many households, they also do this in combination with other services providers. Without compromising its independence, government and charities could do more to ensure they recognise the complimentary nature of their activities and support one another
Charities are getting better at demonstrating their overall impact and value for money, but they rarely consider this from a household perspective or show how their services combine with those of other charities and service providers. Charities could do more to recognise and demonstrate this combined impact on households and the social value this generates. They could also do more to understand the kinds of household type that most readily access their services, allowing them to target services more effectively for their existing beneficiaries, or to support efforts to extend their reach
More must be done to understand the overall impact of charities in combination with other service providers on different households. To consider this in future, using 'social value' as a new field of inquiry
The research demonstrates that charities can be closer to people than many other government or commercial bodies, with charitable services permeating every aspect of life. Despite this (or even because of it) it can still be easy to forget the very real impact that charities can have. It is important that this value is recognised, not only by the general public who give both their time and money, but also by the government in the policies that it sets and the support it offers the sector
Clickhere for a full version of the report.
Phi in Numbers February 2015
For this month's edition of our database update, we have decided to see how all donations to various causes stack up according to each of Phi's 18 different activity types.
To begin with, we have the four most common donor types that we use to categorize donations in Phi. These are Trusts & Foundations, Companies, Other Grant Making Bodies and also Individual Donors. There are also several other smaller categories for donors that are used (these are Patrons, Celebrity Supporters/Ambassadors, President/Vice Presidents and Trustees) however for the sake of simplicity, these will be considered as Individual Donations.
Below, we have included a bar chart which illustrates the overall spread of donations into each category split according to donor type. This includes all records in Phi from the years 2006 to 2014.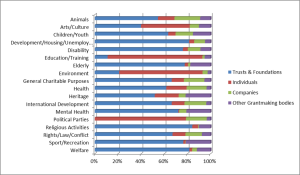 While this can perhaps provide an indication of some of the most popular donors in terms of donation frequency among different causes, we thought it might also be interesting to include some information on the activity types featured according to donation value. However, it should be noted that these results are based on records as they appear in Phi, and are not necessarily representative of the wider giving sector as a whole.
Below, we have included a second bar chart, this time featuring only those records where a donation amount has been included. This chart once again displays the spread of donations to various activity types, however this time donations are split according to their value or their (£) banding rather than donor type.
As is demonstrated by the graph, the most highly represented or popular donation banding across all activity types appears to be the £1,000-£4999 bracket, particularly amongst political causes and those associated with Sport/Recreation.
Elsewhere however, while the Arts/Culture and Education/Training activity types have received the highest number of donations in Phi in the £50,000-£199,999 bracket, overall, the activity type with the largest relative proportion of donations in the £50,000-£199,999 bracket is Rights/Law/Conflict, with 21.55% of its donations with a recorded amount being made in this banding.
Profile: The Childwick Trust
Founded in the year 1985, this trust was established by Jim Joel, who was a successful racehorse owner and member of the Joel mining family.
Working alongside his father Jack, Jim was based at his Stud on The Childwick Bury Estate in Hertfordshire, where he managed and bred a number of highly successful, champion racehorses. He won a number of Classic races, and was also one of only a handful of owners to have won both the Derby and the Grand National with Royal Palace and Maori Venture respectively.
His father, Jack Joel was one of three brothers who all went on to become notable diamond and gold mining tycoons operating in South Africa. Alongside his two brothers, he was first taken under the wing of entrepreneur Barney Barnato, who is remembered for gaining control of much of the early diamond and gold-mining industries of 1870's South Africa.
After a relatively short period the brothers became highly successful, and upon Barney's death in 1897, Solomon 'Solly' Joel became head of Barnato Brothers. Jack was also Chairman of Johannesburg Consolidated Investment Company before eventually returning to England as a horse breeder.
Jack died in 1940, and after Jim's death in 1992 at the age of 97, all funds from the sale of his estate were transferred into the Trust.
In keeping with the family's history and his own personal interests, the trust supports the welfare of people involved in the racing industry and the welfare of thoroughbred race horses. The trust also supports Jewish charities in the UK, school education projects in South Africa, causes involved with disability, the elderly, and the relief of serious illness.
For the financial year ending 31st of March 2014, the trust reported an income of £79,978,556 and an expenditure of £3,441,162. Factary Phi holds 1,055 records of donations made to various organisations since 2005 worth a minimum of £14,422,508
According to Phi, the average size of donations made by the trust is £14,279 and the largest proportion of these donations have been made to causes associated with Health (351), followed by Education/Training (168), Children/Youth (149), Disability (120), International Development (85), Welfare (57), Elderly (29), Religious Activities (18), Animals (16), Arts/Culture (15), Development/Housing/Unemployment (15), General Charitable Purposes (13), Mental Health (10), Sport/Recreation (6), Environment (1), Rights/Law/Conflict (1).
The Trustees
Clare Maurice
Mrs Clare Maurice is a Senior Partner of Maurice Turnor Gardner LLP where she specialises in international tax and estate planning and also how to establish and operate charities.
Mark Farmar
Mr Mark Farmar is a senior Partner with Buzzacott chartered accountants. He originally joined the firm in 1981 and was also the firm's Managing Partner. He is also a member of the Court of the Worshipful Company of Saddlers, and he is a Trustee of the Apprenticing Charity, Robert Kitchin (Saddlers' Co), Riding for the Disabled Association Incorporating Carriage Driving, The Buzzacott Stuart Defries Memorial Fund and The Saddlers' Company Charitable Fund.
Anthony Cane
Mr Anthony Cane is a retired chartered surveyor and a former senior Partner with the Strutt & Parker Group Ltd. He originally joined the firm in 1971 and was head of the National Estate Agency Department and also Chairman of the firm's board of Partners.
John Wood
Mr John Wood is retired, and he is a former Director of property companies Rothley Temple Estates Ltd, Broadland Properties Estates Ltd, Broadland Properties Ltd and Enton Hall Estate Management Co Ltd.
Peter Anwyl-Harris
Mr Peter Anwyl-Harris is a fund manager and former investment director who has held positions with LGT Asset Management, Montagu Investment Management, Newton Investment Management Ltd, Invesco and also Rathbone Investment Management.
Dr Alan Stranders
Dr Alan Stranders is a retired general practitioner and a Director of Harpenden Golf Club Ltd.
Peter Glossop
Mr Peter Glossop is retired. He is a Director of Clive Barford Ltd and he was previously a Director of Invesco Gt Asset Management Ltd. He is currently a Trustee of the Glossop Family Trust, The Dick Foundation, The Glossop Pryor Foundation and the WTJ Griffin Charitable Settlement.