Welcome to the September 2015 issue of the Factary Phi Newsletter.
Major Giving News
Goldman Sachs donates £2m
The investment banking firm has donated £2m to the UN High Commissioner for Refugees in the wake of the much publicised refugee crisis in Syria.
The company's gift is the largest private-sector donation the UNHCR has received since the crisis began, and it is to be used to provide the affected refugees with emergency food, accommodation and medical assistance.
The Lord Mayor of the City of London urged other firms to follow the example of Goldman Sachs. Alan Yarrow said 'The City has a long and proud tradition of charitable giving and fundraising.'
Alan Yarrow said 'The City has a long and proud tradition of charitable giving and fundraising.'
'I would urge all Square Mile firms and workers to be showing their generosity at this time of need for the people of Syria.'
Cancer Centre Campaign to receive £100,000
An anonymous benefactor has gifted £100,000 to the Cancer Centre Campaign.
The campaign, which is based in Colchester, aims to raise a total of £4.5m in order to fund the construction of a new cancer centre at the Colchester General Hospital.
At present, the hospital already boasts one of the best equipped radiotherapy centres in Europe. However, its chemotherapy and haematology treatments for blood cancers are currently administered in a separate suite, located a quarter of a mile away on the hospital site.
With adequate funding, a new facility will be built on top of the existing radiotherapy centre which will be equipped to provide all appropriate treatments in one area.
The campaign has raised £800,000 so far.
Pears Foundation to donate £5m
The charity has pledged to donate the huge sum of £5m to the Imperial War Museum's Holocaust exhibition.
In particular the money will be used to renew its 15-year-old Shoah exhibit, which features a number of personal stories and survivors' testimonies.
Executive Chair of the Pears Foundation, Trevor Pears said: 'Our family is delighted to be supporting this important project'.
'We strongly believe that the refurbishment of the Holocaust exhibition at the Imperial War Museum in London has the potential to be of ground-breaking importance in the way the Holocaust is taught, contextualised and understood, both nationally and internationally'.
Diane Lees, director of the museum, said: 'We are hugely supportive of the initiatives laid out by the UK Holocaust Memorial Foundation and wish to play our part to ensure that Britain has a permanent fitting memorial and meaningful educational resources for generations to come.'
Report: UK Small Charity Sector Skills Survey
This month, we have included our summary of a recent report on skills in the voluntary sector. The report is entitled the 'UK Small Charity Sector Skills Survey' and it was written by Madeleine May and Pauline Broomhead.
This is the report's fourth edition, and it is intended to identify and analyse the nature and scope of skills shortages in the workforces of small charities in the UK.
Aims and Objects
As stated above, the aim of this survey was to explore the nature and scope of skills shortages in the paid workface of the small charity sector. Its results are intended to provide a reliable measure in order to:
Identify the vacancies that are hardest to fill, along with the factors that contribute to this
Analyse the skills gaps that already exist in the workforce and why this might be
Identify the differences between current findings compared with earlier studies
Consider the best possible approaches to deal with any skills issues
Scope of the Survey
The survey's findings are based on the responses from individuals employed by registered charities with an annual turnover of less than £1.5m, and the majority of respondents were in positions of leadership or governance within their respective organisations.
However, due to the limited number of people working at smaller organisations, it should be noted that a greater number of respondents had multiple roles within their organisations. For this reason, the survey focused on specific skills used by individuals within the sector versus specific job roles.
Respondents were asked to answer questions relating to areas within their charity which they were directly responsible for, or at least positions which they had a strong working knowledge of.
Background – Key Statistics
As of September 2014 over 164,987 charities had submitted an annual return to the Charity Commission in the last three years. The report estimates that 96% of these had an annual turnover of less than £1.5m.
Eight out of ten (84%) of voluntary sector employees are based in England, with around 10% in Scotland.
Income from the government to the voluntary sector has fallen by 8.8% overall between 2010/11 and 2011/12.
Generating income and achieving financial stability is considered to be the most pressing challenge for charities according to ACEVO's 2015 Social Landscape Survey. Income in respect of small charities has remained relatively static over the last 18 months.
According to the UK Giving Survey 2014, the sector as a whole has seen donations drop by £400m.
One in five small charities are reportedly struggling. With the demand for their services having reached the highest level ever.
An estimated £2.3m people are employed as paid staff within the charity sector. This is equivalent to 8% of the UK's total workforce.
One fifth of voluntary sector organisations provided no training at all during 2012/13.
The main impact of skills gaps within the voluntary sector was an increase in the workload of other employees (84%). This was followed by a sense of difficulty introducing new working practises (46%) and then having difficulty meeting quality standards (42%).
Many voluntary sector employees are highly qualified, with more than one-third (38%) holding a degree level qualification or higher in 2011. This is slightly lower than those in the public sector but higher than those in the private sector.
Of those employers who did register having skills gaps in their organisations, they were most likely to report gaps for admin/clerical staff (33%) and managers (28%) over other areas.
The workforce is reportedly made up of 66% women and 34% men.
Voluntary sector employees are mainly concentrated in small workplaces. Almost a third (32%) of voluntary sector workers in 2011 were employed in workplaces of less than ten employees. Compared with 26% and 7% respectively for the private and public sectors overall.
The voluntary sector contributes an estimated £11.8 billion to the UK GDP
The estimated value of the output of volunteers in 2012/13 is £23.9b
Executive Summary
From the results of the survey, the report concludes that skill gaps still represent a major barrier for small charities across the UK, with many basic problems for these organisations remaining the same.
Fundraisers remain the most challenging vacancy to fill, with nearly a third of respondents selecting this option (32%), however, this is down from 57% in the 2012/13 survey.
According to respondents, salary remained the biggest barrier to resolving this problem (58%), however, a lack of experience amongst applicants was also cited, with this response increasing from 9% in 2012/13 to 25% 2013/14.
51% of respondents reported an active role from their Trustees in fundraising activities; however 86% felt they ought to play a greater part.
In terms of skills, the strongest performance ratings were given to Research (31%), Health & Safety (47%), Recruitment Practises (48%), Basic IT Skills (70%), Copyrighting (43%) and People Management (71%).
Strictly in terms of fundraising, the strongest performance ratings were associated with Presentation Skills (49%) and Trusts & Foundations (45%).
The poorest performance ratings were given to: Lobbying (49%), Utilising Social Media (44%), Structuring Communications (46%), and Latest HR Laws and Practises (27%).
In fundraising, the poorest performance ratings were given to Major Donor Fundraising (64%), Online Fundraising (62%) and Corporate Fundraising (61%).
A lack of training and development was cited and indeed remained as the main reason for, and the cause of these skills gaps, closely followed by a lack of time for training and development amongst employees.
As was the case in previous surveys, the most commonly identified consequence of these skills gaps was an increased workload across all organisations (61%), however this was closely followed by an increase in the time it takes to deliver work (51%)
Since 2012/13 an increased proportion of respondents indicated that they have less ability to take on new work (39% to 43%), which (the report notes) is particularly worrying at a time when charities are facing an ever increasing demand for their services.
In previous editions of the survey the most common way to address existing skills gaps was considered to be the use of volunteers instead of paid employees. While this has largely remained a popular response, the use of resources and training from sector umbrella and other infrastructure bodies (43%), and further training provision (42%) were the two most common actions taken.
Finally, The most common reason given for not providing employees with training was considered to be the cost of external training
Clickhere for a full version of the report.
Phi in Numbers: September 2015
This month, a hefty batch of 14,860 new records worth in excess of £348m were uploaded to the Phi database; this brings the total to 596,939 records of donations and philanthropy.
The majority of these have been made to educational organisations such as the University of Bristol and various Cambridge colleges; however the upload also includes a number of other donations made to various arts organisations and charities, such as the Royal National Theatre, Christian Aid, Great Ormond Street Hospital and United Response, amongst others.
In light of this rather sizable upload, we have decided to survey the number of new records for each charitable activity type.
As the above graph shows, the largest proportion of records in the latest upload are made up of donations made to the Education/Training activity type (70%). Interestingly however, while there are a relatively smaller number of donations in other areas, the highest donation (£) value overall was in fact in the area of Disability (some £284m), followed by donations to Health related charities (£49m).
Below, we have also included a separate graph showing the spread of these donations into each charitable activity area by type of donor.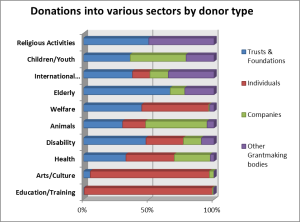 Profile: The Eveson Charitable Trust
This trust was formed in 1994 from the Will of a Mrs Fanny Violet Mary Eveson, who left an estate valued at just over £49m at the time of her death. There is little biographical information available regarding her life or career, however according to its website, her trust was founded in order to support charitable purposes relating to the support or relief of the physically handicapped, the blind and the deaf, the mentally handicapped, the elderly and the homeless.
Aside from the creation of this trust according to the terms of her will, Violet Eveson also arranged for several other separate charitable provisions to be made after her death. These include gifts of £250,000 made to various children's charities, £50,000 to Guide Dogs for the Blind Association, £25,000 to the Salvation Army, £10,000 to St Michael's Hospice, and gifts of £5,000 each made to the RNLI and to the Bishops Frome Church.
According to its website, the trust is concerned with the support of any causes concerned with the activity types listed above, however it should be noted that it will only consider applications from causes that are for the benefit of people living in Herefordshire, Worcestershire and the West Midlands (meaning Birmingham, Coventry, Wolverhampton and the metropolitan boroughs of Dudley, Sandwell, Solihull and Walsall).
For the financial year ending the 31st March 2014, the trust reported an income of £1,260,413 and an expenditure of £2,499,641 Factary Phi holds 1,203 records of donations made to various organisations since 2005 worth a minimum of £13,611,061
According to our Phi database, the largest proportion of these donations have been made to causes associated with Health (353), followed by Welfare (216), Children/Youth (181), Disability (95), Elderly (94), Development/Housing/Unemployment (68), Education/Training (43), Arts/Culture (31), Sports/Recreation (20), Rights/Law/Conflict (13), Mental Health (12), Religious Activities (10), General Charitable Purposes (8), Environment (7), Animals (2) and International Development (1).
The Trustees
Mr David Pearson
David Pearson is a chartered accountant based Birmingham, however based on his age and a lack of any current Directorships, he appears to be retired. He is a Trustee of the G J W Turner Trust, The Douglas Turner Trust, The Public Picture Gallery Fund, Birmingham and the R D Turner Trust.
Martin Davies
Martin Davies appears to be a solicitor with Pearson & Hereford solicitors.
Richard Mainwaring
Richard Mainwaring is Chairman of the board of trustees, and he is also the owner of Mainwaring Dean Associates, a chartered accountancy firm. He was formerly a Partner with Little & Co Chartered Accountants and he was educated at The College of William and Mary.
Bill Wiggin
Bill Wiggin is a Conservative Party politician and an MP for North Herefordshire. Before this, he was Shadow Minister for Agriculture & Fisheries, and he attended Eton College.
Judi Millward
Judi Millward is honorary President of Birmingham St Mary's Hospice. She was formerly its Chairman and she was also formerly Chairman TLC Lottery Ltd in 2010. She is a Trustee of The John Avins Trust.
Richard Frith
Richard Frith is the current Bishop of Hereford and he is the former Bishop of Hull. Prior to this, he was elected as the archdeacon of Taunton in 1992 and he is currently a Trustee of 'The Mission To Seafarers' charity.